The seasonal weather is almost here, so a refreshing drink turns out to be a good ally. Beer is one of those, and due to the great variety that exists around the world, it tastes well with different types of food, from pizzas or white meats to cheeses and chocolates, but how is beer classified?
Before sharing 5 cocktails you can brew with beer —and you have to try— let's talk about the three key elements that influence the flavor, color, and texture of each beer.
This is a sprouting and toasting process through which the cereals that contribute sugar that turns into alcohol pass. Barley is one of the most used grains, but there are also beers that are made with wheat, oats, and corn, among others.
The strength and color of the drink depend on the malting of the beans; if they are toasted, the beer will be darker.
Hops: balance and bitterness
It is a plant of the Cannabaceaes (cannabis) family, it balances the sweetness of the malt, conferring bitterness to the mixture and intensity in aroma and flavor. In addition, it is a natural conservative.
Yeast: chemistry and character
It is the ingredient that transforms sugars into alcohol, it also provides more nuances. Depending on the type of yeast, there are 2 types of beer: lager and ale.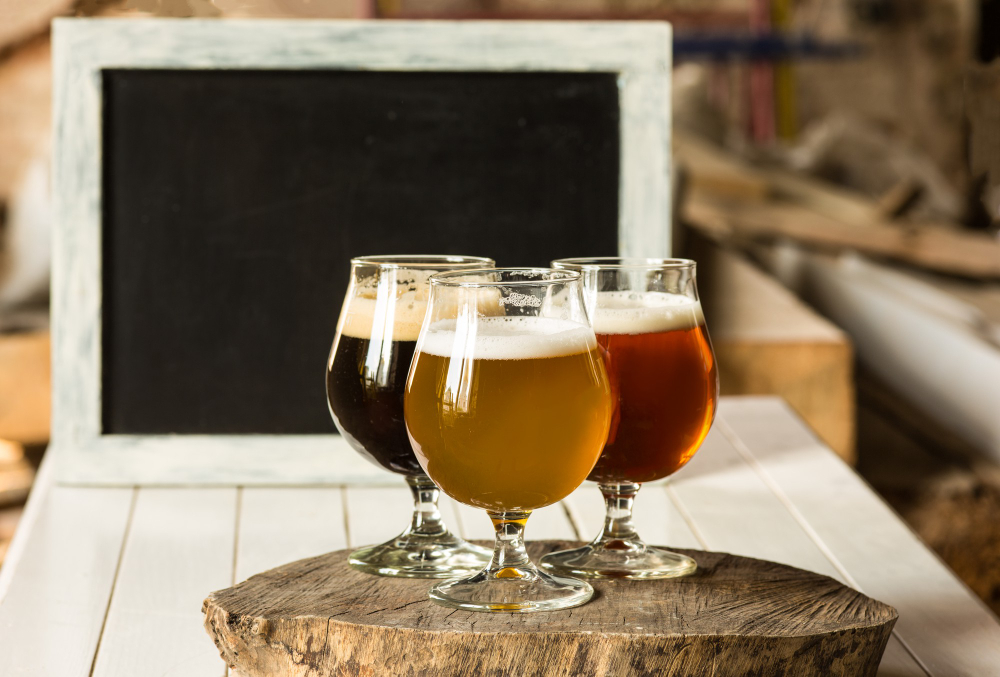 Lager
Due to its low fermentation —that is, the yeast remains at the bottom of the container— it has a light and refreshing flavor. It is processed between 7 and 12 °C to achieve fermentation of all sugars and thus achieve a cleaner appearance and without so many fruity flavors. These are the most popular lagers:
Blonde
Pilsner: It is the most popular worldwide, for its light flavor and gold color, it is distinguished by its hop aroma.
Munich Helles: Malt accentuates bitterness and has a golden hue with creamy foam.
Helles Bock: It has a more roasted flavor and is slightly orange.
Amber
Vienna: With moderate bitterness, amber color, and a roasted caramel aroma.
Märzen: Oktoberfest's popular amber beer, it has a creamy and sweet texture, with light notes of toast.
Rauchbier: its reddish-brown color highlights a smoky flavor.
Dark
Schwarzbier: Its distinguished black color balances the light, soft toasted flavors.
Dunkel: Its smooth flavor has hints of chocolate and biscuit, with a light brown body.
Doppelbock: It has a more pronounced touch of malt and therefore its characteristic toasted aroma.
Ale
The yeast from this type of beer is kept floating in its process. Its fermentation temperature is high, between 18 and 24 °C and it is what gives it that opaque appearance, but with very fruity and spicy flavors and aromas. These are the featured Ale:
Blonde
Pale Ale: Very bright gold with floral and citrus flavors.
India Pale Ale: With a high alcohol level (between 5 and 7%) it is characterized by its bitterness and intense aroma.
Tripel: It has a bright yellow color and its flavor is herbal.
Amber
Amber Ale: Caramelized malt gives it this reddish hue and sweet flavor.
Dunkelweizen: Its mahogany color and roasted, fruity flavor give it the right bitterness.
Quadrupel: An amber beer with fruity flavors, low bitterness, and creamy foam.
Dark
Irish Stout: With a strong body and aroma similar to coffee or chocolate that also gives it a brown color.
Robust Porter: Its light toasted and sweet flavors give it a light character, but its appearance is very dark and with tan foam.
Imperial Stout: Originally called Stout Porter, it has shades of coffee and chocolate and powerful bitterness.
Now that we know a little about each of the types of beers, these 5 cocktails will refresh you during the summer.
Bull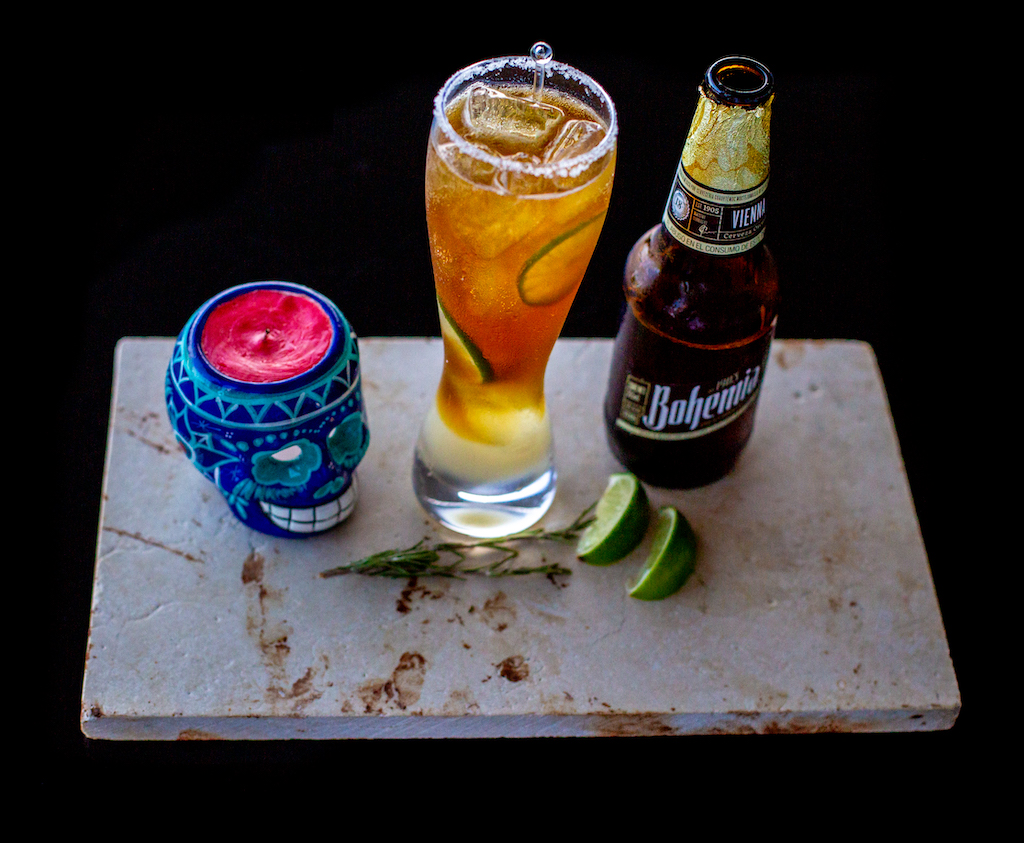 1 tsp lime juice, to frost
1 tbsp salt, to frost
1 C Ice
¾ oz simple syrup or agave nectar
⅛ oz lemon juice
1 ½ oz Damiana liqueur (or passion fruit puree)
1 oz dark beer, cold
Dress the rim of the glass with lime and salt.
Add the ice, syrup, lemon juice, Damiana liqueur, and fill to the top with beer.
Michelada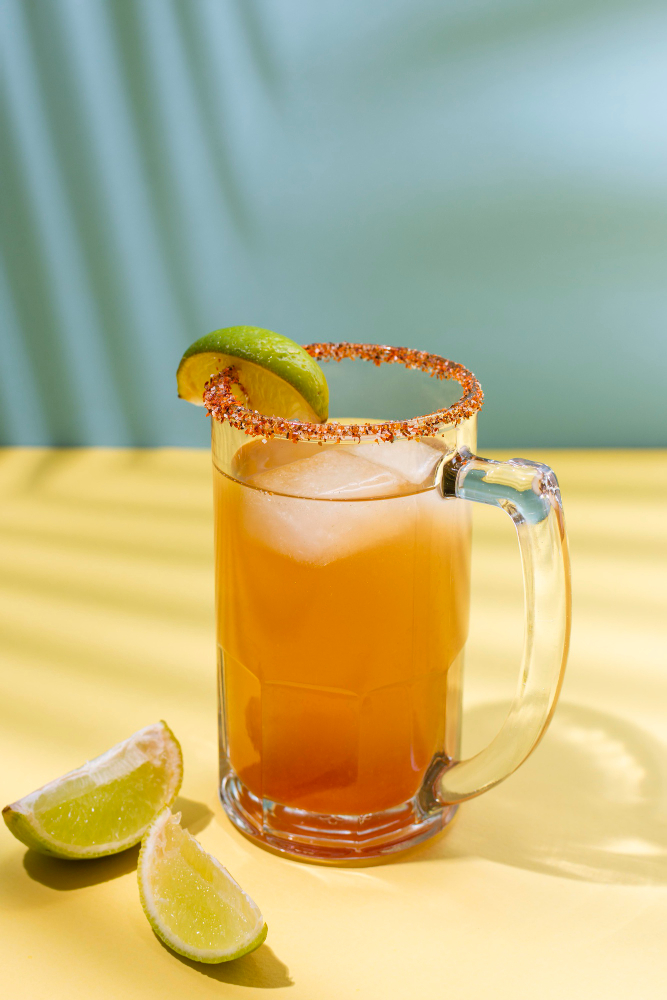 Pilsner beer
0.5 oz of lime juice
1 tsp of Worcestershire sauce
1 tsp of hot sauce
Tomato juice (optional)
Salt
Rim a glass with salt and lime.
Add the juice of the lemons, Worcestershire sauce, and hot sauce, you can add 3 to 5 tablespoons of tomato juice.
Pour the beer, mix well and enjoy.
Black velvet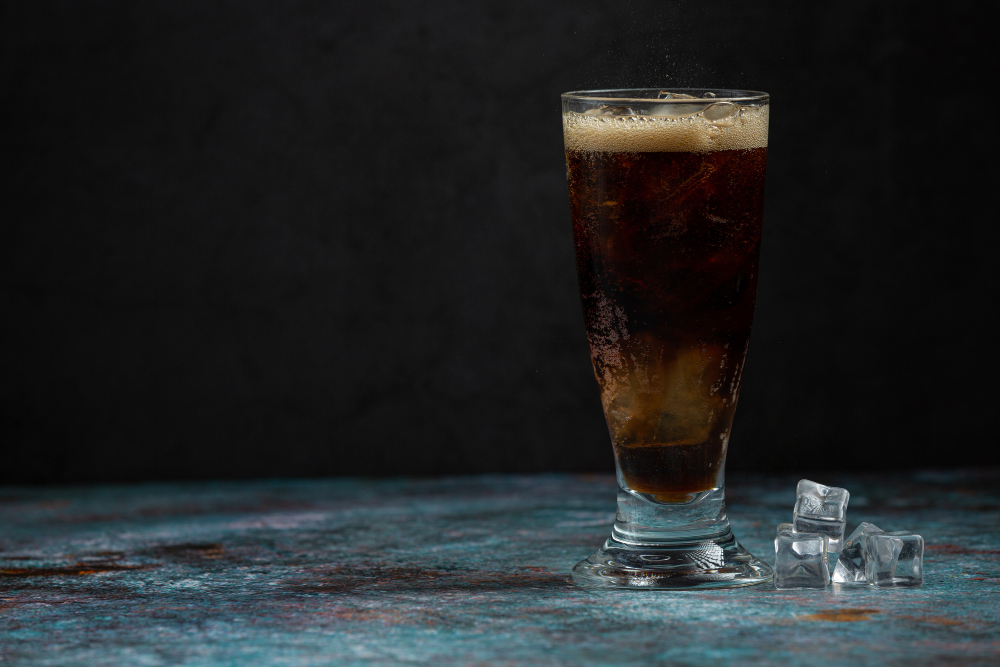 Stout or Porter beer
Champagne
In a long glass, mix half the beer and half the champagne.
You will have a dense and velvety texture.
Beergarita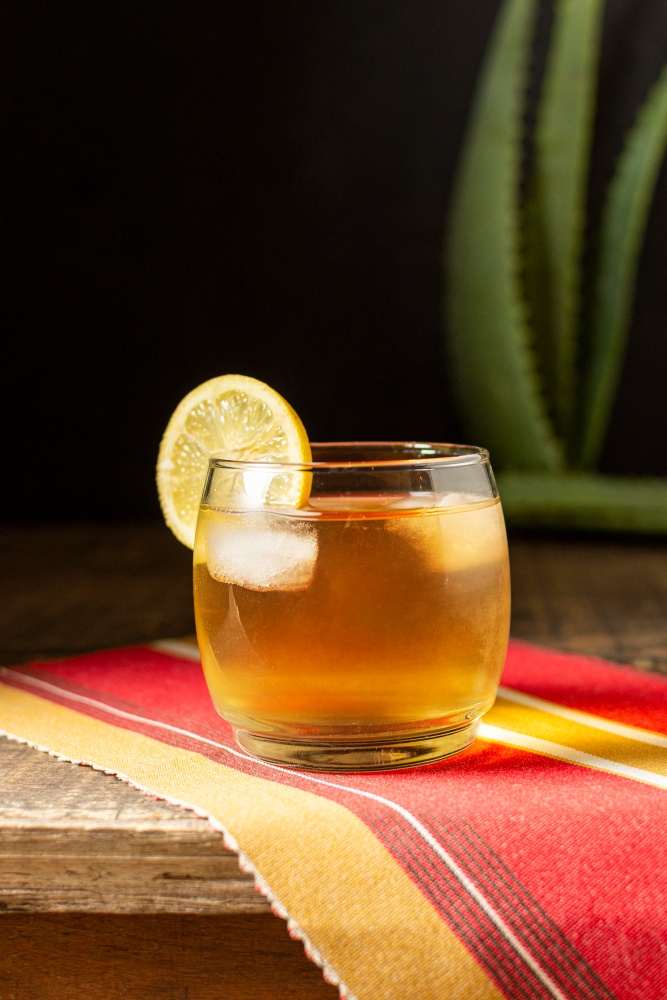 Munich Helles beer
1 oz of lime juice
1.3 oz of Silver tequila
1 cup of ice
Salt
Rim a glass with salt and lime.
Blend the lime juice, tequila and ice until it has a thick consistency.
Pour into the glass and add the beer.
Black & Tan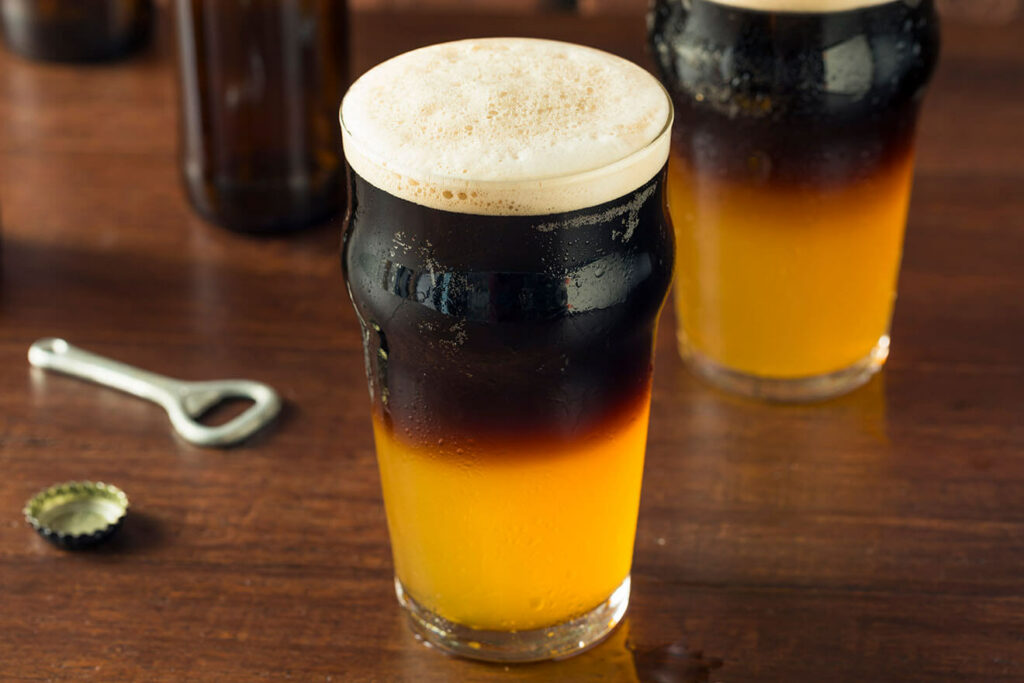 Porter or Stout beer
Pale Ale or Pilsner beer
Add in a glass the light beer (Pale Ale or Pilsner) halfway.
Then very slowly add the black beer (Porter or Stout).
You will have a very peculiar drink.
Brass monkey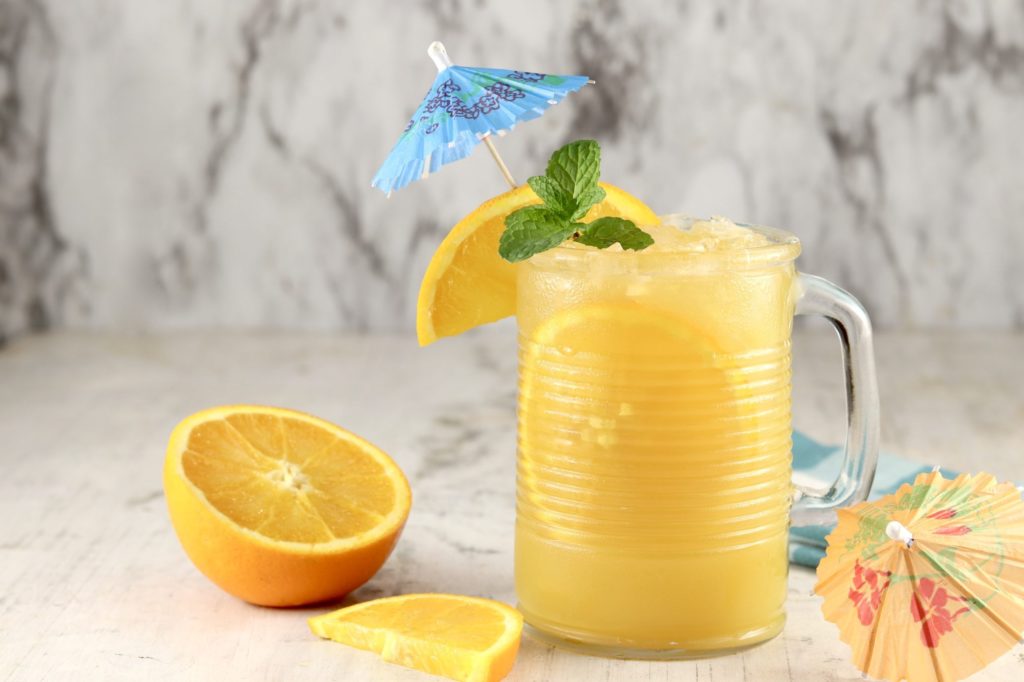 Amber Ale beer
4 oz of orange juice
Angostura bitters
Add the orange juice into a glass.
Then, gradualy add the beer and angostura bitters.
Refreshing and easy!